Welcome to Before The Bridge Fine Art!
Artist Biography
Ashley Herrera is a self taught artist, with a passion for realistic portraiture in colored pencil, acrylic and graphite. As she owns a privately run animal shelter of her own, her dogs and cats have been a major factor in her decision to do art. Ashley can take your favorite photos and turn them into a cherished memory to keep with you, even after your loved ones have passed.
Please have fun looking around the site and check me out on Facebook and Instagram to keep up to date on whatever I am working on!
www.facebook.com/btbfineart
and
www.instagram.com/btbfineart
---
Five Star Review from Lindsey Hinds: "I commissioned Ashley to do a portrait of a friend's dog who had passed away. There were some very important, but challenging, parts about him that were very important to his mom so I wanted them perfect. The whole portrait was amazing! So life like and detailed, down to the flecks of color in his eyes. Such a fantastic job, and so easy to work with, too."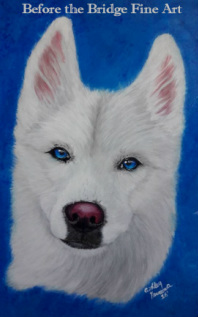 Commissions are always welcome! Please visit my Order Your Portrait page for sizes and pricing information! I would LOVE to hear from you!

I very much enjoy working with each and every client on their custom portraits. Its a great way to memorialize a special moment or companion animal. Capturing the spirit of each subject that I paint or draw is what makes this all worthwhile.
---